Students for a Secure Border
College Students across the nation remain unconvinced by the media's portrayal of our country's illegal immigration issues. As a conscientious college student, you have a unique opportunity to open the discussion on your campus and we have a clear message to share: "SECURE OUR BORDERS!"
Updates

Chris Simcox Under Attack at Universities - Read More
Chris Simcox Attacked by "Open Minded" Student Radicals - See Video
Chris Simcox on FOX News discussing the personal attacks of protestors at NYU debate - See Video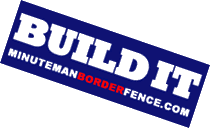 Click Here to Sign up for one or all of the following:
National "Stop the Madness" Campaign that will be kicked off on April 9th
Nationwide "Stop the Madness" Campaign
MCDC Standard Operating Procedures
Minuteman Border Fence
The Medical Cost of Illegal Immigration
The Labor Cost of Illegal Immigration
The Criminal Cost of Illegal Immigration
The Education Cost of Illegal Immigration
Campus Campaign Information Table

Sign Templates:
Click on the image to open a 18" x 24" PDF version of the sign below.


Invite MCDC President Chris Simcox to speak on campus
Campus Campaign Founders
MCDC Speaker Invitation
Host a screening of Cries From the Border
A documentary by Mercedes Maharis, that discusses the effects of illegal immigration on local communities.
Cries From the Border Screening
Join Campus Students for a Trip to the Border as a Volunteer Member of the MCDC
Register as a Minuteman
Check Available Dates for Volunteering