Build the Minuteman Border Fence

Eleven miles of the Minuteman Border Fence in eleven months - that is how much of the United States the Minutemen have secured. That is eleven more miles of liberty!  But the work is far from finished.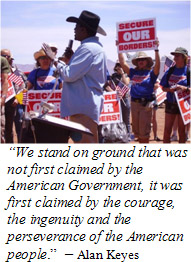 The progress that has been made by committed volunteers and our professional team towards promoting a safe and secure United States has been impressive since the Minutemen Ground Breaking Ceremony last year. Sadly the Congress even voted to mandate the building of a border fence and allocated funding.  Yet the executive branch authority needed to start building has not been given and the funds are not yet released.
Generous PRIVATE donations of land and money funded the materials for Minuteman volunteers to demonstrate that an effective and affordable fence can be constructed, and our efforts have built a foundation to move forward upon. In the face of constant insults and demeaning name-calling from opposition groups and the ever present nay-sayers, patriots like you have drawn the line in the sand so urgently needed to stop the rampaging flood of illegal aliens across our southern U.S. border!
If you agree that the men and women of the Minuteman Civil Defense Corps have done a great service to this country and were right to stop waiting for the Federal Government to build a fence on the U.S./Mexican border - and instead start building our own fence to secure our nation...
...Then please say "YES" and "DONATE to BUILD THE FENCE!"
 
If you want to leave the border wide open without a fence, simply say "NO"

I KNOW WHAT I HAVE CHOSEN to do and I think you already know my answer.
Donate NOW to Build the Minuteman Border Fence
ALL DONATIONS OF $25 OR MORE RECEIVE A FREE BUILD IT STICKER

After spending five years here on the Arizona border, I know the only way we will ever stop the invasion of drug smugglers, gun runners, rapists, human traffickers and murderers crossing into our nation is by building a secure fence to keep them out.
I'm not talking about a white-picket fence. 
I'm talking about an attack-repellant fence that makes it difficult for illegal crossers to climb with a ladder... Difficult to clip with wire cutters...  Difficult to tunnel under and difficult to ram with a vehicle... To stop illegals at the border.
A double layered gauntlet of 14' high anti-climb steel mesh, reinforced vehicle barriers and fiber optic sensors with cameras monitored by registered Minuteman volunteers 24 X 7.
Your generous donations of support and time are leading the way and we have gained some powerful allies.  FOMGuard USA has come to fight along side by pledging $7.5 million dollars of state of the art fence technology. This is just the type of news that emboldens Minutemen citizens to stay the course and continue the fight for security.
There is hope on the horizon, but it will take the same stalwart dedication you have already shown. With your support we will be able to construct a model of security barrier that will compel this nation to complete building the kind of impenetrable border fence that can protect the territorial integrity of a great nation.  We NEED a fence that will effectively thwart the attempts of illegal aliens invading this country.
It will cost our Minutemen efforts about $400,000 to finish the next mile and put a full security fence in the ground at $250 per foot of high-tech, state of the art fencing.
I know it's a lot of money.
But we cannot secure America on the cheap.
Now you know why I am hoping you will say "YES" to BUILD THE FENCE!"
THE CHOICE IS UP TO YOU.
But until Congress stops burying its head in the sand, and the Feds stop pandering away our sovereignty, we're going to have to see to border security ourselves.
WILL YOU JOIN WITH ALL OF US COMMITTED TO BUILD MORE FENCE?
We MUST show the Feds how to get this job done!
I wish I didn't have to ask for you help, I wish we could rely on our government to do its job for us.
But you and both know that when it comes to stopping the tidal wave of illegal aliens, we're on our own and costs for the Feds to erect real fencing, which they are delaying, are projected to be massively, prohibitively higher that ours.
Our Minuteman initiative is in America's interest.  I hope you'll consider sending a vital gift today - be it $50, $150 or even $250 - to help us get more fence sections built... and built soon!
PLEASE REMEMBER I NEED YOUR SUPPORT TO BUILD THE FENCE.
 

Donate NOW to Build the Minuteman Border Fence
ALL DONATIONS OF $25 OR MORE RECEIVE A FREE BUILD IT STICKER

If you have questions about the fence, visit the fence website at www.MinutemanBorderFence.com.
Or keep an eye on your nightly news - we're getting national media coverage and are also featured in the National Geographic May 2007 issue.
I look forward to hearing from you. Thank you for standing up for our right to protect our lives and our property.
Be sure to send this to EVERYONE you know who wants to help STOP illegal aliens at the border! Thank you!

Yours for America,
Chris Simcox
Founder and President
Minuteman Civil Defense Corps