Whitehouse - Congress - Mexico
Support Amnesty and Open Borders

Minuteman Civil Defense Corps Says NO!

Mexican President Cheers Democrats and Amnesty
"I am absolutely horrified by this prospect, but I have to face reality."
-- Tom Tancredo

Minuteman Corps Expands is Efforts to Secure the Border

Minuteman Civil Defense Corps is EXPANDING our border efforts, because now more than ever it is up to a self-governing people to secure the borders.

We will never give up.

RIGHT NOW it is more important than ever to secure our borders with patrols and fencing on private land using private donations. The open border lobby are dancing in the streets as, unfortunately, amnesty is supported wholeheartedly by the new majority party in Congress.

MINUTEMEN CONTINUE TO STEP INTO THE BORDER SECURITY BREACH

Our volunteer numbers are increasing and our national leadership team is meeting in Tombstone, AZ, next week to map out expanded efforts for more border watch operations, miles and miles of additional border fence, expanded internal operations directed at reporting employers that hire illegally, shutting down day labor sites and keeping tax dollars from being used for illegal alien benefits.

Do not lose heart!

The Minuteman Corps needs you to continue the fight or lose our country forever to a guest worker program that will greatly increase the flood over our wide-open border seeking amnesty. This is a national security catastrophe! Implementing a guest worker program before the borders are secured will never stop terrorists, drug traffic, murders, rapists and thieves from hiding in the human tsunami that moves across our borders.

The Minuteman Corps will continue to stand watch at the border and report illegal activity, build border fencing, urge local and federal officials to enforce the law and push for the enforcement of our laws to keep our country and your families and children safe. We need your help to expand our efforts!

Voters Say: Yes to Secure Borders - No to Amnesty

It is criminal that our new Democratic leaders and our President are moving quickly to leave the border open to terrorists and increased illegal crossings as the world anticipates an opportunity to illegally cross the border and be rewarded with amnesty and citizenship.

What we witnessed in America's elections on Tuesday was a populist revolt. With the issues of national security and ethical questions looming over the elections, the President ran from the eminent crises before us of border security and the illegal immigration invasion and instead sent a contrary message to voters the week before the elections pushing amnesty disguised as a guest worker "path to citizenship" as the solution to securing our nations borders.

Now President Bush says he will team up with Democrats to pass an immigration bill with a guest-worker program that his own party blocked this year. Amnesty opponents predicted a bloody intra-party fight but said they cannot stop and amnesty bill from passing.

Congress and President to Create Amnesty for Illegal Aliens

Help Stop it NOW!

Meanwhile voters took a hard line in Arizona as voters approved broader restrictions on undocumented immigrants with ballot measures restricting access and benefits for illegal aliens passing by overwhelming margins.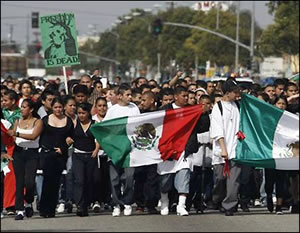 In the November 7th elections, candidates from both parties running as conservatives won the day. Unfortunately the Democrat leftist leadership joins President Bush and supports amnesty and will pressure their conservative freshmen Congressmen into voting for amnesty.
All the while, America suffers the result of these continuing political games.
The American people understand that talk of amnesty by some in our government as our wide-open borders are compromised by thousands daily is irresponsible and causes a tsunami of illegal entry into this country by those seeking to get in under the wire to take advantage of the offer of amnesty.
As these numbers grow in volume and scope, the international criminal cartels gain even more control over our border frontiers, the black market underground swells with document fraud and identity theft, and the drug and contraband turf wars accelerate. More gang violence erupts in our cities by murderous thugs such as MS-13, the ruthless gang of self-professed friends of al Qaeda who, by our own government's estimation, number in the tens of thousands in cities across America. National security and public safety demand that we make securing our borders combined with serious interior enforcement the first and most urgent priority of Homeland Security. This is not rocket science. It is time for our politicians to hear what the people are saying to them: Secure our borders now! No amnesty.
Wide Open Border and Amnesty for Millions is now a reality.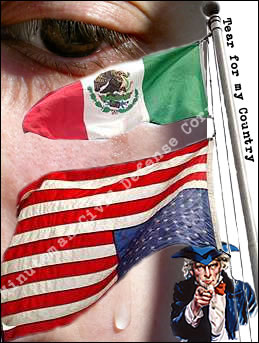 "We will fight it, we will lose. It will go to the Senate, it will pass. The president will sign it. And it will happen quickly because that's one thing they know they can pass," said Rep. Tom Tancredo, Colorado Republican and chairman of the House Immigration Reform Caucus, who had led the opposition to a guest-worker plan. "I am absolutely horrified by this prospect, but I have to face reality."
It is now up to the Minuteman Corps to expand our patrols to stop the flood of illegals across our wide-open borders seeking amnesty. This is a national security nightmare. We need your help!
President Bush supports the Senate's broad immigration bill including citizenship rights for millions of illegal aliens. Last year House Republicans blocked those efforts, calling them what they are: amnesty. House Republicans supported border security first and passed a bill to erect nearly 700 miles of fencing along the U.S.-Mexico border and the President signed it. Tuesday's elections nullified that effort. The fence the government "approved" has no mandatory requirement to fund it.
In Mexico City, President Vicente Fox's spokesman, Ruben Aguilar, said that he expected the fence to be derailed. "There is no money to build it, so it won't be built," he said, calling fencing "useless and unworkable."
This unfunded border fence between the U.S. and Mexico now faces a new hurdle: Cash!!!
Not only is it doubtful that the fence will ever be funded, but the price tag for what the government is calling a "virtual" fence is estimated at over $3 million per mile!!! The Minutemen are building real, actual high-tech security fencing for a fraction of that cost on private land using private donations.
Bush and Democrats share the common ground of Amnesty
Yesterday, in an afternoon press conference, the President said he shares Democrats' vision on immigration and will try again for a broad bill. "There's an issue where I believe we can find some common ground with the Democrats," he said.
According to Reuters news agency, a spokesman for Mexican President Vicente Fox cheered Democrats' success, saying it improves chances for getting a bill done.
And Democrats said the issue's time has come. "With alignment now in Congress and the White House, this is a unique opportunity," said Rep. Howard L. Berman, California Democrat, a senior member of the House Judiciary Committee and a leader on the issue.
The American people are fed up with political games at the expense of their safety, security and sovereignty. We must increase our efforts to secure the border. The fight has just gotten harder but we cannot shrink from our responsibilities as a self-governing people.
Law abiding American citizens must say that we WILL NOT tolerate an open, chaotic border any longer. We will not be bullied into surrendering to foreigners our national security, our national sovereignty and our rights as US citizens.
The Minuteman Civil Defense Corps continues to be on duty throughout the country and at protecting our borders from foreign invasion. They, as always, are respectful of the law and generous in their compassion for the exploited and indigent humanity flooding our frontier.
We need you to volunteer, donate and serve in your local communities across the nation, at the border with Mexico and Canada and building fence at the border in Arizona.
YOU can make a REAL DIFFERENCE. The politicians will talk; the liberal media and the "Hate America" crowd will offer AMNESTY to law breakers. The Minutemen will ACT in defense of America!
Sincerely for America,



Chris Simcox, President
Minuteman Civil Defense Corps