Landowners Support July 4 th AZ Operation - Lives Saved -- Dozens Apprehended!
Border Patrol Supervisors:
" Ignore Minuteman Calls! "
Redeploy Agents While 60 Make Illegal Crossing!
At sundown on Friday, July 1, eighty U.S. citizens dedicated to securing the U.S. border with Mexico gathered to honor the lowering of the American colors. The patriotic ceremony signaled the beginning of what would be a successful 4-day, Fourth of July Minuteman Civil Defense Corps mission to assist Border Patrol in the Avery Valley of Arizona. The operation was the fourth successful mission conducted since the highly publicized April Minuteman Project drew the nation's attention to our outrageously porous, unsecured border with Mexico.
Most of the volunteers participating in the operation were veteran Minutemen and women; about a dozen new recruits were initiated to the dangerous desert heat and long hours of steadfast, vigilant border observation. As they stood guard for their fellow Americans over major crossing routes used by drug dealers and aliens who illegally enter our country in the dark of night, our stalwart Minutemen reflected on the irony of an Independence Day weekend spent away from home and family, on lonely outpost, necessitated by the neglect and disregard of federal duty.
Hours before the first deployment of so-called legal observers, "monitoring" Minuteman field operations, success was evident as numerous local landowners stopped by to show support and say "thanks" to our Minuteman volunteers at the operations staging area hosted by the VFW post in Three Points, Arizona.
Local support was unanimous as dozens of private property owners opened their gates to allow Minuteman Civil Defense Corps volunteers to keep watch over their homes and ranches, ravaged by the environmental and property damage of tens of thousands of illegal intruders. The stories told by the landowners are the same repeated from Texas to California, night after night -- fences cut, pets and livestock slaughtered, home invasions, well-heads destroyed, trash and polluting waste everywhere.
Volunteers split into three teams and moved to three areas around the valley to begin the first 12-hour shift. It did not take long for volunteers to make their first assist. Within 10 minutes of setting up a thermal night scope, a team of Minuteman volunteers spotted 10 people slinking across an open field dotted with mesquite and cacti; the mysterious invaders were wearing all black clothing and seemed to be lugging large backpacks over their shoulders. A call to Border Patrol resulted in the apprehension of at least eight members of the invading group. By 8 o'clock the next morning, a total of 26 illegal aliens had been apprehended by Border Patrol agents, after being spotted and reported by Minuteman Civil Defense Corps volunteers.
A last group of four illegal aliens actually entered a Minuteman Civil Defense Corps outpost, and were provided with water. They left the camp only to be apprehended a short time later after volunteers contacted Border Patrol.
Ray Ybarra's group of so-called legal observers followed one Minuteman Civil Defense Corps group, to sit and watch over the volunteers to ensure that no one's civil rights were violated. This time Ybarra's group, who promote illegal immigration activity, was stymied as they discovered they were breaking the law by trespassing –- the entire weekend operation was held on private property and Ybarra's group, in overt violation of the ranchers' property rights, packed up and went home.
Minuteman Civil Defense Corps volunteers returned to camp and attempted to get a few hours sleep during daylight hours while temperatures soared to above 110 degrees.
Saturday morning at approximately noon a Minutewoman driving her car on a laundry patrol was approached by a young man. After she slowly pulled away while calling Border Patrol, he ran after her car waving a bottle. A laundry patrol is when volunteers drive desolate back roads looking for fences marked with t-shirts or other clothing, which indicates a location where illegal aliens are hiding in the brush awaiting a coyote to pick them up in a vehicle.
Minutewoman Gayle was soon joined by volunteer Fred, who stopped his car and said "hello" while offering water to the young man. MCDC volunteers quickly realized the teenager was in a desperate physical condition from the heat, and again called for Border Patrol's assistance. While waiting for Border Patrol's arrival, volunteers offered food but the delirious teen refused. Volunteers soaked a towel with water and draped it over his shoulders and encouraged him to sit in a shaded area, all the while comforting him with kind words and asked the young man where he was going. He was so disoriented he did not know and stated he had no other traveling companions.
35 minutes later a Border Patrol EMT agent arrived to pick up the young man. After examining the young illegal border crosser, the agent told volunteers they had saved the man's life. More agents arrived to search the area and a short time later discovered the man's companion under a bush about 100 yards away from the road. His companion had died hours earlier.
Sadly, an MCDC volunteer discovered another body of a migrant who died after being left behind by his "coyote."
President Bush, Jim Kolbe, Raul Grijalva, John McCain and every other U.S. Congressman and Senator who refuse to immediately secure our borders with military troops bear responsibility for such deaths in the desert and are equally culpable for the crimes perpetrated against U.S. citizens by criminal illegal aliens.
Volunteers repeated the 12-hour shift Saturday night through Sunday morning.
Twenty-six more illegal aliens were apprehended without incident by Border Patrol agents, with the vigilant assistance of Minuteman Civil Defense Corps volunteers.
But something was different on Saturday night. Many calls to Border Patrol for assistance were going unanswered. MCDC volunteers needed to make repeated calls to get agents to respond. The night before agents saturated the area, but by Saturday many agents had been redeployed further west of our operational areas, and response time went from a few minutes on Friday to almost an hour on Saturday.
Sunday morning as the shift ended, a volunteered hailed a Border Patrol agent and inquired about why agents had been redeployed west along highway 86.
"Supervisors' orders," responded the agent, who was overwhelmingly supportive of Minuteman volunteers.
Sunday night proved to be even more frustrating for volunteers. Within 30 minutes of setting up observation posts, dozens after dozens of illegal aliens clad in black clothing were spotted with the help of night vision.
Volunteers frantically made call after call to the local dispatcher requesting back up. Most of the calls for help went unanswered. At least 60 illegal entrants passed MCDC observation posts and continued north into American territory with impunity.
Monday morning after making dozens of unanswered calls to Border Patrol, a volunteer met up with a supervisor and inquired as to why agents were not responding.
"I've been out here for hours and I never received a message from dispatch that you needed help. We were right here in the area and I can assure you if we were called we would have responded –- you never called us, we never received any dispatch," the supervisor retorted.
Despite the political games-playing by Border Patrol supervisors, a majority of the field agents were pleasant, friendly and supportive of the Minuteman efforts –- some asked for t-shirts and another was given a prized Minuteman button.
Volunteers performed with professionalism and compassion for the illegal aliens in search of work, driven to break our laws by their own government's corruption and callous disregard for their lot.
MCDC volunteers wondered how many illegal aliens broke through the front lines of American homeland security –- the unsettling thought is the knowledge that an increasing number are from hostile Middle-Eastern countries, adversaries in our war on terror.
Minuteman Civil Defense Corps volunteers remain dedicated to serving our communities and our country –- answering the call to be vigilant, alert, observant in reporting suspicious illegal activity to the proper authorities in the name of our nation's security, sovereignty, and ordered liberty.
It's the American way.


Chris Simcox
President
Minuteman Civil Defense Corps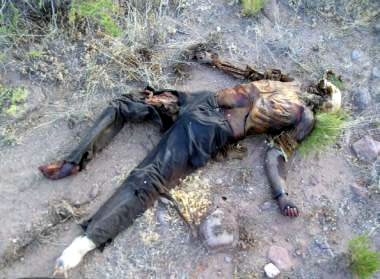 A young individual died when crossing illegally . President Bush, Jim Kolbe, Raul Grijalva, John McCain and every other U.S. Congressman and Senator who refuses to immediately secure our borders with military troops bears responsibility for such deaths, and all the casualties of border crimes.