Unexpected Guests
April 28, 2007
During closing ceremonies and BBQ luncheon of the Arizona April Operations, 4 illegal aliens became the unexpected guests of the Minutemen. Two men and a mother with her daughter we so enticed by our Head Chef Carla's cooking that they elected to give up their quest for amnesty and stop in for a bite to eat.
In a shameless act of human kindness and compassion, which has been under-reported in the press, the Minutemen "vigilantes" made our guests feel right at home by providing them with barbecued hamburgers, chips, cookies and a beverage of their choice. Our "gun toting" volunteers even provided emergency first aid to one injured illegal alien who apparently did not have socks and wore his feet raw from the dangerous trek through the desert from the Mexican border some 38 miles to the south.
Minuteman President, Mr. Chris Simcox, even went so far as to provide his injured "guest" with a pair of Minuteman socks while other volunteers scramble to arrange ground transportation to the four illegal aliens who were obviously too tired after lunch to walk any further. Our "guests" shook hands with our volunteers for being so courteous as to arrange for free transportation service via the Federal Government private shuttle. At least these illegal aliens had the good sense not to stop at the border and ask the National Guard for an MRE before continuing on their way. Our food in camp is always better even if it is covered with a layer of dust.
The Minutemen have been called many things, but perhaps Humanitarians and Heroes should be added to the list. These four illegal aliens, who were abandoned by their coyote, are most likely alive today because of our efforts. Unfortunately, as we pack up and conclude April's Operation "Stand Your Ground" countless others will not be so fortunate, as the temperatures continue to soar into the 90's now and into the 100's very soon.
PS: To the rest of you illegal aliens out there who could not join us for lunch this time, we'll be back in October. So please be patient and wait until then! Muchas gracias amigos.
by Roger Plank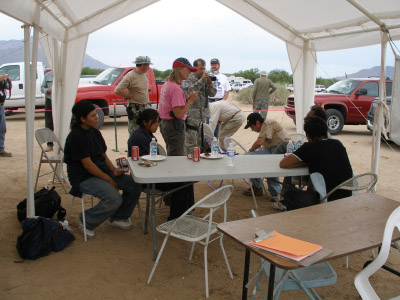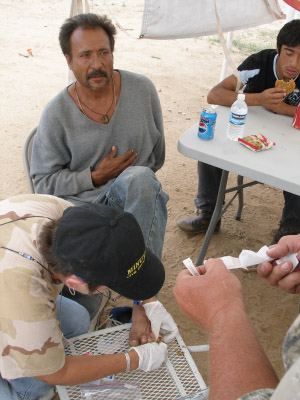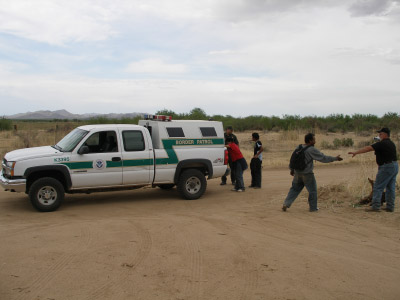 To see all Border Operation Announcements, Click Here