Observation of U.S.A. Day - May 1, 2007

The following is my observation of U.S.A. Day - May 1, 2007, at the AZ State Capitol in which Americans celebrated our heritage by eating apple pie and ice cream while observing hordes of illegal immigrants marching by demanding amnesty. It was "an adventure" to say the least to try to drive and take pictures of the pro-illegal protesters at so many stoplights. They were marching from the State Fair Grounds to the park across the street from the Capitol.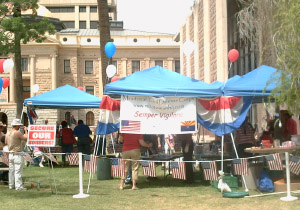 Yeah, speaking of the BIG MARCH - NOT! The actual numbers were far less than the liberal media quoted!
I found a parking spot three blocks from the AZ State Capitol and upon departing my vehicle, asked a woman who was parked behind me, if she would like to walk together. She asked me, "Why?" I responded that I was not comfortable in walking in this part of town alone as I had just driven past people sleeping on the street and others walking around appearing drunk, drugged or homeless. She then disclosed that she works at the Capitol. I asked, "What do you do?" She replied that she was a staffer for the Dems.
I was so proud to view the many MCDC banners hanging at the Arizona State Capitol! Pictures show the banners, speakers and the patriotic participants.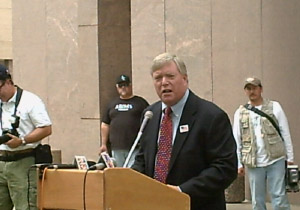 Keep in mind with viewing these pictures, that this event was put on by USA for a Sovereign America with MCDC supporting them and participating in the Patriotic American celebration. Speakers included our own Don Goldwater, Phoenix Chapter Director, and our very own shining light in the Arizona legislature, Rep. Russell Pearce. Anna Gaines from "You don't Speak for Me" and Col. Al Rodriguez also delivered passionate messages to the patriots.

Can you see the man standing slightly behind Col.. Rodriguez? He was out of line with his comments that included, "I'm an (expletive) Vietnam Vet!" That rude illegal sympathizer was encouraged to depart the area of media coverage where he walked behind the crowd and stood on the sidewalk for the remainder of the presentation.
The American enjoyed the tasty apple pie and vanilla ice-cream. It was a delight to hear Anna Gaines declare that not too many people knew why they were served apple pie. It's because very few were Americans and know American culture! She was right regarding those on the other side of the street--not those on the Capitol lawn.
Col. Al Rodriguez asked the vets to raise their hands, and many people did! Thank God for their service to our Nation and their continued patriotism!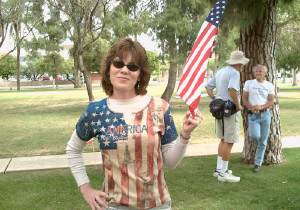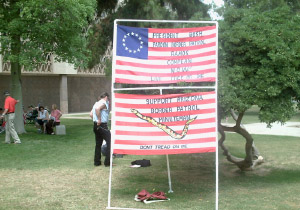 Minuteman CDC volunteers were amongst other volunteers who celebrated this American Day as protesters were a short walk away conducting their actions in vain.
These pics of the pro-illegal protesters were taken while driving to and from the march. They and their children walked quite a distance to participate. I felt sorry for the children being dragged so far by their parents.