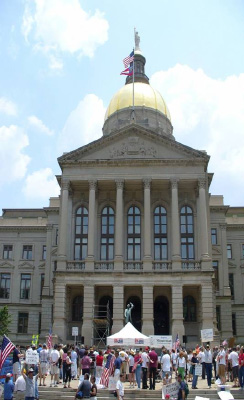 A view of some of the Patriot Citizens
at the March for America GA Rally.
CBS News estimated 300 + in attendance at the NO Amnesty - March for America rally at the Georgia State Capitol.
Thanks to all of our GA MCDC leadership and other volunteers who gave their time and resources to make this rally a success. Special thanks go out to Donna Walker, President of the Atlanta Minuteman Project and her leaders for their help in planning and attending this event. I want to especially thank WGAK 920 AM for sponsoring this rally. Joel Aaron, host of "The Hub" Radio Show was so helpful and provided all the resources for the rally; i.e. sound system, tent, etc.
We had a great line up of speakers:
Saturday, June 16, 2007 marked the 7th anniversary of the senseless death of Dustin Inman. Dustin's life was snuffed out by an unlicensed illegal alien driver. Billy and Kathy Inman held back tears along with the rest of the crowd as they shared their real-life story of our government's failure to stop the illegal immigration insanity. The invader that killed Dustin and put Kathy in a wheelchair still escapes justice.
We only encountered a few (4 or 5) counter protesters across the street. Our crowd was well behaved yet passionate about securing our borders, enforcing our existing laws and NO amnesty!  See a video of the Rally, Click Here.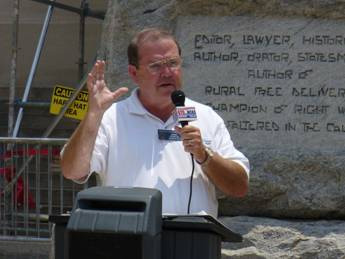 State Senator John Douglass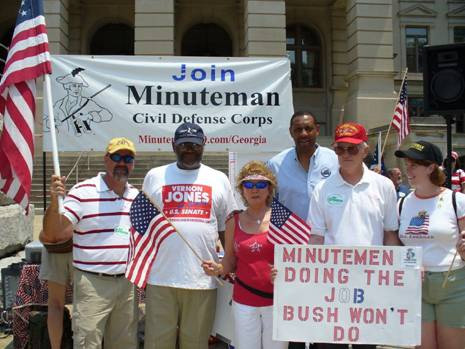 Minuteman CDC volunteers and
Vernon Jones, DeKalb CEO (4th from right)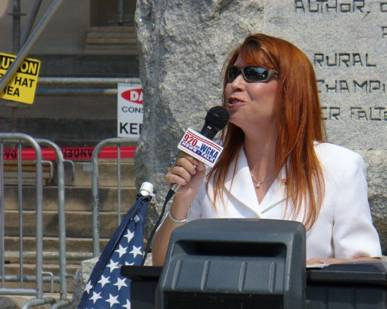 Eeevil Conservative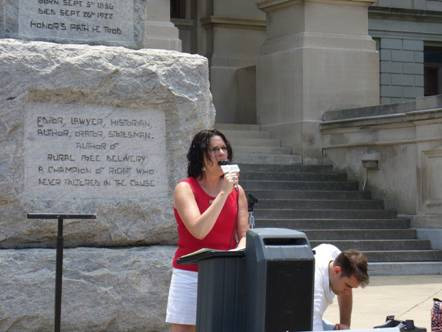 Beth Sawyer singing our National Anthem

Future Minuteman ringing the bell
as victims of illegal aliens are read
Someone in our crowd circulated a petition to recall our Senators Chambliss and Isakson for their part in crafting and supporting the Amnesty bill. The petition garnered 4 pages of signatures.
Each of the speakers hammered the need to secure our borders, enforce our American laws and NO amnesty under any circumstances. Overall, it was a great day for Georgia and America.
We can not rest. Keep calling your senators and let them know that we the people will not stand for this treasonous amnesty bill. If you have not signed up at NumbersUSA.com, please do. There you will be updated on your senator's vote and you are able to send free faxes to your representatives.
Our nation is at a crossroads. We have three options: Go backwards (retreat), stand still (apathy) or move forward (attack). The first two options mean good bye America and hello third world country. We won't retreat; we can't stand still, so we MUST advance with our momentum from last week. Patriot citizens are the reason this amnesty bill was put in its coffin. We MUST press forward to put the final nail in the coffin and bury it for good.
Every thing rises and falls on leadership. Be a leader in this fight!
Moving Forward,
Todd Walker
Georgia State Director
Minuteman Civil Defense Corps
Phone: 706-224-2646
Email: GAMinuteman@charter.net