Locals urge Sen. Bennett to vote against new legislation
By TIFFANY DE MASTERS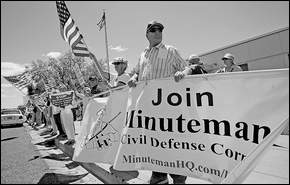 ST. GEORGE - With more than 100 people picketing in front of the Federal Building at 196 E. Tabernacle Street, a coalition of groups opposed to illegal immigration pressured Sen. Bob Bennett, R-Utah, Wednesday to vote against the Comprehensive Immigration Reform Act.
The controversial bill is a compromise, bipartisan measure to curb illegal immigration into the United States.
The protest group included members of the Utah Republican Assembly, Citizens Council on Illegal Immigration, Minuteman Civil Defense Corps and the Dixie Republican Forum, who delivered a letter to Bennett's St. George office.
Larry Meyers, president of the Utah Republican Assembly, said based on media reports, even though the senator hasn't publicly made up his mind on the bill - privately he favors it.
"Anything that allows illegal aliens to stay in the country and get visas and citizenship is a form of amnesty," he said. "To me, illegal aliens should be required to go back to their own countries and get in line behind those who are trying to come lawfully - and this bill doesn't do that."
Meyers added that the primary goal of the protest was to convince Bennett to listen to his constituents.
Emily Christensen, press secretary for Bennett, said the senator is aware of the wide range of opinions on immigration reform.
"Sen. Bennett believes that comprehensive immigration reform is needed to ensure security of our borders and prosperity of our economy," Christensen said. "Given the complexity of the bill and the number of pending amendments, he continues to monitor the debate, listen to Utahns and review the details of the legislation."
Craig Eustice, staff assistant in Bennett's office, said at least 200 amendments have been made to the bill.
Protesters said Bennett isn't upholding the laws of the country.
Max Palfreyman, a veteran of the Korean War, said Bennett took an oath of office to uphold the laws of the United States.
"I'm here as a veteran who served this country - and I don't want this country to be invaded," he said.
Greg Aldred, member of the Dixie Republican Forum, said the bill is a slap in the face for those who have becomecitizens.
"I'm here for those who are legal and have taken up the American flag," he said.
Jonathan Koski with the Southern Utah Minuteman Civil Defense Corps was also there protesting.
"This bill they're trying to rush through is just insanity," he said. "The best thing they can do is send it, paper clips and all, and put through the shredder and secure our borders."
Phil Fons, 85, was at the protest as a citizen.
"People are here because of a quote of Teddy Roosevelt that said, 'Aggressive fight for the right is the noblest sport the world affords.' If you don't stand up for liberty and freedom what else is there?" he said.
~Snip~
To read the entire article, Click Here.