Thank you Minutemen For Your Service and Patriotism
Minuteman Operation: "Stand Your Ground" a Success
New Border Watch Scheduled for May
Thanks to the more than 2000 volunteers whose hard work and courageous efforts at the border in AZ, CA, TX, NM, WA, NH and NY has made America safer, and has continued to focus the public mind and the federal government on the crisis of the on-going illegal alien invasion of our nation.
It is clear that you have saved American lives by keeping criminals out of this country, as evidenced by the lives already lost at the hands of illegal aliens. (See the Minuteman Memorial - http://www.minutemanhq.com/hq/memorial.php)
1652 illegal aliens sighted and reported; 501 apprehensions by U.S. Border Patrol in this April "Stand Your Ground" Operation!
With all the inducements of "amnesty" talk plus the usual seasonal surge in trafficking, illegal activity continues to increase all along the border - and the MCDC volunteers were there to aid the U.S. Border Patrol in the fight to control our borders. Many stories have come in about the efforts this April, not just along the border but all over the United States. First let's look at the border activity reports.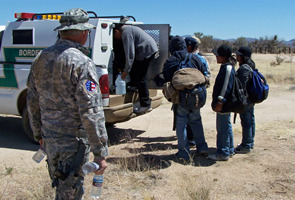 Minutemen Volunteers Worked in Direct Support Roles with the US Border Patrol to Spot, Report and Apprehend Illegal Aliens (See More Photos)
In Arizona on opening weekend, 105 volunteers showed up to help. Post Bravo 10 lines discovered a deceased illegal alien who was left behind with a broken leg by a coyote trafficker to die. Such sad indicators of the ruthless human trafficking that relentlessly continues is a poignant demonstration our government is wrong in telling us that illegal border traffic is down and everything is fine.
In Texas the MCDC volunteers were getting a LOT of media attention...
Mexican Consuls have been quoted as being outraged that the Minuteman Civil Defense Corps volunteers have come for border watches from not only Texas, but from as far away as Alabama, Florida, Illinois, Indiana, and Georgia to set up on "THEIR" border! The Consuls also said that they will be "closely monitoring" our Minuteman volunteers for any violations of "their citizens' rights"! All of which
continues to beg the question - why is the Mexican government complicit in aiding "their" citizens to cross illegally into "our" sovereign territory?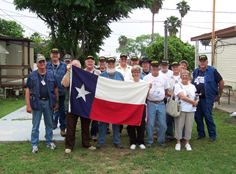 CA, NM, and WA all had great success and volunteers showed up in large numbers. We cannot thank everyone enough for taking time out of your busy lives to protect our rights. More detailed reports can be reviewed state-by-state at www.MinutemanHQ.com.
The fight did not stop on the borders; it continued in other states as well. Many debates and events took place to better educate United States citizens on the crisis of our broken borders and the uncontrolled waves of illegal immigration.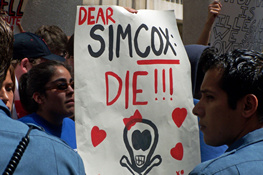 I recently have been on the front lines of the fight for the hearts and minds of students at three different universities - New York University, Michigan State University and the University of Texas at San Antonio. I felt safer at the border than at our institutions of higher learning, as I stood up for our constitutional rights while being threatened, called names like "murderer, racist, Nazi and fascist." My civil and constitutional rights were continually violated in every debate.
I will continue to "Take the Heat" in the coming weeks and months - but your support is still needed more urgently than ever, as the battle to Secure Our Borders NOW continues to reach a political boiling point.
Let's keep the donations coming - we have serious southern border operations scheduled in May, as well as additional border operations or rallies virtually every week.
The U.S. Senate is still trying to force amnesty on an American public that does not want it, with feckless and irresponsible legislation that MUST be rejected.
They tell us that the traffic on the border is down and crime is down. Our boots on the ground have seen a different picture: the success of the April Border Watch operation just showed us and the nation that now more than ever we need to continue the fight for secure borders, public safety, and national sovereignty. MCDC had a victory in April, but the war still goes on. More volunteers are needed and the continued support of all our chapters is essential for success.
Thank you all again for stepping up to the plate in the battle to preserve our liberty and secure our freedom for ourselves and our posterity. There is no doubt that we CAN prevail in this fight, if we will dedicate ourselves to the vision of our Founders, and remain committed to the principles of responsible self-government. If we do not protect and defend America in this hour of need, she will be naked to her enemies.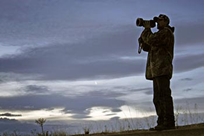 YOU have made a REAL DIFFERENCE. So, for your own sake, for the sake of your children, your grandchildren, and for generations to come, please help MCDC continue its fight to protect and preserve the United States of America and defend our Constitution.
Sincerely for these United States,



Chris Simcox, President
Minuteman Civil Defense Corps





To see all Border Operation Announcements, Click Here