Return to Operation U-Turn
Operation U-Turn's
All Star line up of Nationally Recognized Speakers
Al Garza - National Executive Director- Minuteman Civil Defense Corps
Gary Kreep - US Justice Foundation
Steve Franks - Founder NFRA
Joyce Mucci - Executive Director Midwest Immigration Reform
Mike Cutler - Retired INS Special Agent
Daneen Peterson, PhD. - Featured Speaker, Professor and noted Expert on SPP/ Smartport
---
Al Garza - National Executive Director- Minuteman Civil Defense Corps

Al Garza is the National Executive Director of the Minuteman Civil Defense Corps., a citizen political action group that assists Border Patrol in defending our southern and northern border with Mexico. He is a Marine combat veteran of the Vietnam conflict, with a background in hand to hand combat, weapons training and military police while stationed at Camp Pendleton.

Al retired in 2003 after 32 years as a private investigator in Southern California. He currently lives in Arizona. He joined the Minuteman Civil Defense Corps. shortly after retiring due to the needless deaths in the desert and the lawlessness and anarchy on a sovereign border of the United States.

Al has diligently dedicated three years to the minutemen in a crusade to set a new standard for what it means to be an American. While our elected officials, non-chalantly, regard the minutemen as vigilantes, the minutemen are busy saving lives and reporting suspicious illegal activity to the proper authorities, an endeavor attributed to one of President Bush's eloquent speeches. Without one incident of violence the Minutemen have peacefully turned over 6 thousand illegal entrants to Border Patrol and saved 300 lives. Al believes in the rule of law and demands that people enter our nation legally and prove they have a productive reason for entering our country.

Al has held leadership positions in various Veteran organizations and assisted youth clubs as a Big Brother, counselor and advisor. Al has challenged our elected officials to take their oath seriously as he has, to serve and protect American Citizens. He says our government fears being called playground names and shows weakness by ignoring one of the most important issues affecting the future of our nation and the taxpayers will no longer tolerate the hypocrisy.
---
Return to the Top
---


Gary Kreep - US Justice Foundation

Education: A 1972 graduate of the University of California at San Diego with a Bachelor of Arts Degree in Economics, Mr. Kreep graduated from the University of San Diego School of Law in 1975 with a Juris Doctor.

Professional: Mr. Kreep passed the California State Bar Examination on his first try, and started practicing law in 1975. He has been in private practice since that time, both as a sole practitioner and as the sole owner of a small law firm, employing as many as three attorneys and ten staff members.

Mr. Kreep co-founded the UNITED STATES JUSTICE FOUNDATION (USJF) in 1979 with two other California attorneys. Since that time, he has served as the President and Executive Director of USJF. In 1992, Mr. Kreep reduced his private practice to part-time status to work full-time for USJF. USJF is a nationwide, non-profit, conservative, legal action foundation.

Mr. Kreep co-founded the JUSTICE POLITICAL ACTION COMMITTEE (JPAC) in 1985 with two other conservative activists. He has served as President of JPAC since then. JPAC is a federal political action committee registered with the Federal Election Commission.

Mr. Kreep co-founded the CALIFORNIA JUSTICE POLITICAL ACTION COMMITTEE (CALJPAC)in 1996 with two other conservative activists. He has served as President of CALJPAC since then. CALJPAC is a California political action committee registered with the California FPPC.

Mr. Kreep co-founded the FAMILY VALUES COALITION in 1998 with two other conservative activists. He has served as President of FVC since then. FVC is a non-profit California corporation organized under IRC § 501 (c)(4).

Political/Civic: Mr. Kreep served on the California Delegations to the 1976 and 1980 Republican National Conventions. He has been a member of a number of Republican organizations, including several California Republican Assembly Chapters. Mr. Kreep also served as elected General Counsel to Region 16 of the Young Republican National Foundation.

Mr. Kreep served for one year on the San Diego County, California PUBLIC WELFARE ADVISORY BOARD (PWAB). PWAB is an advisory board to the San Diego County Board of Supervisors concerning the San Diego County Department of Social Services.

Mr. Kreep served for two years on the SAN DIEGO HUMAN RELATIONS COMMISSION (HRC). HRC is an advisory board to the San Diego City Council, charged with the task of enforcing the San Diego City non-discrimination ordinances, including its gay rights ordinance.

Mr. Kreep was a member from 1969 until 1984 of YOUNG AMERICANS FOR FREEDOM (YAF). He served as San Diego County Chairman, California State Vice-Chairman, California State Chairman, and a Member of the National Board of Directors of YAF.

Mr. Kreep served in the BIG BROTHER Program for four years.

Legal: Mr. Kreep is admitted to practice before the United States Supreme Court, the United States Ninth Circuit Court of Appeals, the United States Federal Court for the Eastern District of California, the United States Federal Court for the Northern District of California, the United States Federal Court for the Southern District of California, and all of the courts in California.

He was recently admitted to the United States Court of Appeals for the Eleventh Circuit on July 20, 2005.

Published Articles/Radio and Television Appearances: Mr. Kreep has written a number of articles published by a variety of newspapers and other publications. This includes the San Diego Union Tribune, the Escondido Times Advocate, the North County Times, the Christian American, theArizona Star, Media Bypass, and many more.

Mr. Kreep regularly appears on a variety of radio and television programs. These include radio programs such as the ROGER HEDGECOCK SHOW, the WEISSBACH SHOW, ISSUES IN EDUCATION, the MASON WEAVER SHOW, the BOB NOONAN SHOW, the DUFFY SHOW, and the MICHAEL LAW SHOW.

Mr. Kreep regularly speaks at conferences. These include the annual CONSERVATIVE POLITICAL ACTION CONFERENCE (CPAC), the annual CONSTITUTIONAL COALITION CONVENTION, and the annual CHRISTIAN COALITION CONVENTION.
---
Return to Operation U-Turn
---


Steve Franks - Founder NFRA

Steve Franks served in the US Army in the First Infantry Division in Lai Khe, Viet Nam. He became very active politically through the years, and has served as President of CA Republican Assembly. He was the Founder of the National Federation of Republican Assemblies and was also active in numerous campaigns beginning with Nixon in 1962, Reagan for President in 1976 and 1980, and many local, state and national races.

Steve served in the US Army in the First Infantry Division in Lai Khe, Viet Nam.

Steve's community service record includes, serving as President of the Girl Scout Council of CA, Developer of POW/MIA bracelet with Bob Dornan - worked 7 years on behalf of prisoners and those missing in action. Which included organizing offices in over 100 US cities, creating collateral material, doing radio and TV appearances nation wide and negotiating with the North Viet Namese, Viet Cong, Khmer Rouge Pathet Lao in Europe and Asia on behalf of the families of the POW's and MIA's.

In 1995 Steve realized the power of the Internet and began a periodic newsletter, "Frankly Speaking", this had a circulation of about 125 people and tried to describe the conservative views of the day. Currently, the newsletter has over 200,000 subscribers and growing.
---
Return to Operation U-Turn
---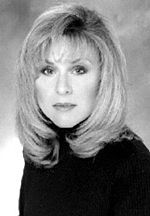 Joyce Mucci - Executive Director Midwest Immigration Reform

Joyce Mucci grew up in Washington, D.C. but has called Kansas City her home for the last twenty-years.

A former lobbyist in Jefferson City and on Capitol Hill, she changed course to pursue a public relations career. In addition to being the former Director of Public Relations for the International Council of Cruise Lines, and former Director of Communications for the Center for the America Founding in Washington, D.C., she has been the talk show host of KCCV radio and the voice of the The Ingram's Daily Business Report on KPHN.

In addition to devoting her time to Inside Out Ministries, she is also Director and Coordinator of The Mucci Media Consulting Firm and spokesperson for the Mid-America Immigration Reform Coalition.

MY TAKE ON CONSERVATISM: Russell Kirk put it best when he said, "...conservatism is a way of looking at the human condition. The conservative impulse is a man's desire to walk in the paths that his father followed; it is a woman's desire for the sureties of hearth and home."
---
Return to Operation U-Turn
---


Mike Cutler, Retired INS Special Agent

Michael W. Cutler graduated from Brooklyn College of the City University of New York in 1971 with a B.A. in Communications Arts and Sciences. Mr. Cutler began working for the Immigration and Naturalization Service (INS) in October 1971 when he entered on duty as an Immigration Inspector assigned to John F. Kennedy International Airport. In August 1975 he became a Criminal Investigator (Special Agent) for the INS at NYC. He rotated through virtually every squad in the Investigations Branch. From 1988 until 1991 he was assigned as the INS representative to the Unified Intelligence Division (UID) of the DEA in New York. In 1991 he was promoted to the position of Senior Special Agent and was assigned to the Organized Crime, Drug Enforcement Task Force (OCDETF) which required that he work with members of other law enforcement agencies including the FBI, DEA, ATF, U.S.Customs and local and state police as well as law enforcement organizations of other countries including Israel, Canada, Great Britain and Japan, to conduct investigations of aliens involved in major drug trafficking organizations which ultimately resulted in the seizure of their assets as well as their arrest and successful prosecutions for a wide variety of criminal violations.

Mr. Cutler has testified as an "Expert witness" at nine Congressional hearings on issues relating to the enforcement of immigration laws having been called by members of both political parties. Mr. Cutler has also furnished testimony to the Presidential Commission on the Terrorist Attacks of September 11.

Mr. Cutler retired from the INS in February 2002 after a career that spanned some 30 years. He is currently a Fellow at the Center for Immigration Studies, a Washington-based think tank, is a Contributing Expert on the nexus between immigration and terrorism for the Counterterrorism Blog and is an advisor to the 911 Families for a Secure America.

Finally, Mr. Cutler has appeared on numerous television and radio programs including the O'Reilly Radio Factor, O'Reilly's No Spin Zone, Fox News and the Lou Dobbs Tonight Program on CNN to discuss the enforcement of immigration laws and has participated in various public debates and panel discussions on issues involving the enforcement and administration of immigration laws. Among the areas of concern that he is able to speak about authoritatively are: The nexus between immigration and national security, the impact of immigration on the criminal justice system, strategies to combat illegal immigration and why amnesty for illegal aliens is the wrong way to go.
---
Return to Operation U-Turn
---


Daneen Peterson, PhD. - Featured Speaker, Professor and noted Expert on SPP/ Smartport

Daneen G. Peterson, Ph.D., an author who writes and speaks about the illegal alien problem and the coming North American Union. Her articles are heavily researched and referenced with 'clickable' URLs that will take the reader directly to the source material. Her accompanying photos and graphics add to her vivid exposes that have been published on MichNews.com, the Federal Observer, The Wake Up America Foundation, WebCommentary or the American Chronicle and its 21 syndicated sites such as the California Chronicle, the LA Chronicle, and the World Sentinel. All of her articles can be found archived on the StopTheNorthAmericanUnion.com website.

Dr. Peterson was a professor at both Temple and Jefferson Universities in Philadelphia, Pennsylvania. where she taught behavioral science research statistics and methodology. After leaving academia, she created and directed the first Department of Research and Program Evaluation for Big Brothers/Big Sisters of America's National Office in Philadelphia.

Still an anti-illegal alien activist, Dr. Peterson is currently researching and writing on the issue of the One World Order and the United States Govenment's covert acts to create a North American Union without consent of Congress or 'We The People.'

She has been an invited guest on many radio talk shows to discuss her in-depth research that has covered all aspects of the illegal alien invasion and is currently discussing the brazen and surreptitious acts by our own government to force us into a North American Union.
---
Return to Operation U-Turn