Sat. April 5, 2008
AZ April Spring Muster
Observation of U.S.A. Day
May 1, 2007 - Minuteman CDC volunteers were amongst other volunteers who celebrated this American Day as protesters were a short walk away conducting their actions in vain.
[Read more...]
Chris Simcox Tours US Univerisities
April 2007 - Simcox is attacked by disruptive and unruly crowds of students. Amnesty supporters violate Simcox's civil right of speech and some are arrested for dissent.
Rally to Free Ramos and Compean
January 2007 - Phoenix, Arizona American Freedom Riders, Minuteman Civil Defense Corps and Friends Rally for pardon of Border Patrol agents Ramos and Compean.
Generous Donation of Communications Equipment
November, 2006 - Communications equipment including the radio towers pictured here was generously donated to MCDC by Doris Chambers and her husband, retired First Sergeant Buddy R. Chambers. Pictures provided by Quetzel Doty. Click Here to Read More.
Three Points Lay Up Area
October, 2006 - A lay up area is a changing area. Illegal aliens shed their soiled travel clothing and backpacks. One backpack below shows traces of cocaine.
Arizona Operation Block Watch Kick-Off Rally
September 30, 2006 - Click Here to read the related article.
Mesa Day Labor Protests
September 2006 - Photos and comentary provided by: Quetzel and Sandy Doty




Armed with our signs and Dick's battery operated megaphone with siren, we deterred quite a few of those who were considering cheap labor!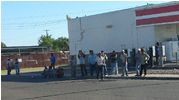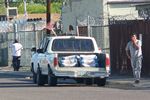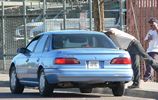 The usual crew stand by the AM/PM. Minutemen watch as potential employers stop to ask for employees. Blatant soliciting on city streets.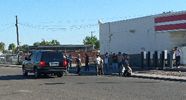 You'd think anyone who could afford a Lincoln Navigator would not need to hire cheap laborers!
Minutemen Meet the Virginia National Guard in Arizona
August 2006
Successful Groundbreaking of the Minuteman Border Fence
Memorial Day 2006
Illegal Aliens Being Apprehended by the Border Patrol