Volunteers from across the country came together for our inaugural border fence ground breaking. With the successful completion of the border fence ground breaking behind us, we must now look forward to accomplish our goal of a secure border. Plans are being drawn to continue the border fence project. Keep watching your emails and this website, as we will be posting a schedule of the Border Fence Project!
We are continuing to collect donations in a segregated non-profit account, exclusively to build the Minuteman Border Fence. The Minuteman Civil Defense Corps is announcing to the U.S. Government and to the world that where many elected officials fear to uphold their oath to defend and protect our nation's security, sovereignty and prosperity, American citizens take the responsibility and we will secure our borders NOW!
Minutemen are donating time, equipment, land and funds knowing that they can successfully build a fence of over 2000 miles in length one foot at a time and doing the hard work to secure America today and into the future.  
As the Minuteman Border Fence Project got underway, noted Minuteman, Patriot and U.S. Military Veteran, Jim Campbell of Arizona, has made the first six-figure contribution to this citizen initiative!!
Campbell stated publicly, "With my $100,000.00 donation, I am challenging the 'Americans' to donate meaningfully to the Minuteman Border Fence Project. Collectively, we have the financial strength to fund this project entirely. If we do so, we will never have to explain to future generations how we let our national security be placed at risk when we could have acted..."
Chris Simcox said of the $100,000 donation, "Jim Campbell is a great American who has stepped forward to ensure the success of the efforts of law-abiding American citizens to do the job the government refuses to do:  secure our borders.  On behalf of the Minuteman Civil Defense Corps, I thank Arizona Minuteman Jim Campbell for his tremendous generosity, and vote of confidence in MCDC's security fence initiative...  and I ask that patriotic Americans outraged and frustrated by the infamous actions just taken against our national interest by quislings in the U.S. Senate respond by joining with us-and by accepting Jim Campbell's challenge to "donate meaningfully" and help us build the Minuteman Border Fence NOW!"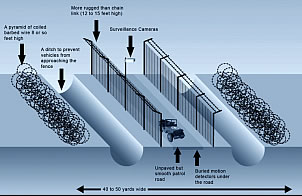 This fence proposal is not a new idea. Colin Hanna at We Need A Fence has proposed a superlative design, that the Minuteman Civil Defense Corps is now making a reality. At present, six private landowners are partnering with the Minutemn CDC to commence construction of border fencing on their land. Surveillance cameras on the fencing will be monitored via computer by registered Minutemen across the country. We have chosen a security design that is based on the Israeli fences in Gaza and on the West Bank that have reduced terrorist attacks there by 95% or more. In order to be effective, a fence should not be easy to compromise by climbing over it with a ladder, cutting through it with wire cutters, ramming it with a vehicle, or tunneling under it undetected. No fence can be a 100% impenetrable barrier but, a good design will be time-consuming enough to breach that Border Patrol agents can be alerted and arrive at a point of attempted incursion before any illicit crossing can be completed.
MCDC will continue to man our posts at the border and watch and report as the Minuteman Border Fence is built.  No one operation alone will secure the border.  MCDC has shown that illegal aliens can be stopped from jumping our border simply by dedicated volunteers sitting in lawn chairs for 30 days at a time. 
A Minuteman Border Fence will help protect all of America 365 days a year.
The Minuteman Border Fence is a gift to America, sorely needed by our citizens.  A Minutewoman who lives near the southern border describes what her life is like and why she volunteers.  "I go out every night in my area to watch and report illegal aliens and their criminal activities to the Border Patrol.  Why do I do this?  I do it because I am your good neighbor-and as your good neighbor, I am putting my life on the line to protect you from having to live the way I do.  By this I mean no drug deals in your backyard, no broken down fences, no marauders on your property, no sleepless nights and no terrorists to perpetrate another 9/11.  I do this for all the people!  The Minuteman Border Fence is being built by with the hard work and support of many, but it will stand for generations as a gift from one set of neighbors to another, who truly desire to see America strong and safe, and so are willing to take their part in the securing of America."
We would like to especially thank all of our donors and volunteers who are making all of this possible!
To make yourself a part of history by volunteering to help build the Minuteman Border Fence Click Here!!!
To express your support of the Minuteman Border Fence Project, give your financial support by Clicking Here!!!