Welcome to the Minuteman Border Fence
---
---
Texas Mayors Betray U.S. Security?
Minutemen are not Deterred!

-Border Fence Construction-
Interview with Bisbee rancher Richard Hodges
(SEE VIDEO)

Minutemen continually answer three main questions in the face of opposition from the Congress, Mexico, LaRaza and an alliance of secure border critics.

1) Why Continue to Build Fence? The Fences built by the Minuteman have been a driving force compelling the federal government to act, and the ranchers along the border in Arizona say it well, "The government wasn't doing anything until the Minutemen showed up." Minutemen must continue to keep the pressure on and make the federal government actually "BUILD IT"--talk is cheap, and virtual is not actual.

2) Why is the Minuteman Fence at the Hodges Ranch not completed? Our fence construction is completely supported by private donations. The Minutemen are a volunteer organization and will only build fence sections as donations are available. Our first layer is laid in on the key traffic area and has had a huge deterrent effect for the rancher against incursions onto his property. The Feds are following our lead and appear to be laying in another fence layer directly in front of our barrier span. Therefore, we need funds to finish out our initial span and to install the electronic monitoring high technology FOMGuard materials which have been so generously donated to this project, so we can fully demonstrate to the federal government what an optimal, affordable border security fence system runs like:

Finish the Hodges Minuteman Border Fence Now!

There is hope on the horizon, but it will take the same stalwart dedication you have already shown. With your support we will be able to construct a barrier that will set the standard for the feds of affordable impenetrability, thwarting the attempts of illegal aliens to invade this country.

It will cost about $400,000 to finish the Hodges Ranch span and install full security technology in the ground at $250 per foot of fence.

We know it's a lot of money. But we cannot secure America on the cheap. And this is vastly less expensive than the federal government costs for what little physical fencing they are actually getting into the ground.

3) Why must the Minutemen Keep the Pressure on--aren't the Feds building fence now?
The short answer is that the Feds are building it because the Minutemen are building it and the open borders lobby is hard at work against us.

Texas Mayors Demand the Fence Come Down!

Texas Mayors and business owners who benefit from illegal aliens flooding across the border in Laredo, Texas are up in arms over prospects of tightened border security. The Mayors are threatening to sue the U.S. government over the construction of a border fence and they are rallying local ranchers to their side.

Six Mayors from towns on the border are teaming up to make sure the border stays open. "We have to protect our property and we will do whatever is necessary to ensure there is no wall," said Laredo Mayor Raul Salinas.

They say they have to protect the economies of their towns; and a closed border will cut off trade routes with Mexican towns on the other side of the border. They are also grandstanding when they say the Rio Grande River will be on the Mexican side of the fence, and that their agriculture needs this water source.




These six Mayors think that it is fine for them to compromise American national security because they want to trade illegally with Mexican towns. Why can't trade be conducted legally with a secure border? They illegally profit from the current lawlessness, and the real problem is that they are trading with Mexico at the expense of the United States. They are trading American jobs and American taxpayer dollars for thousands of low income workers who take more from the United States than they give back. These Mayors gladly risk the security of this nation to turn a profit in "cheap labor" and black market dealings, by allowing a border wide open for terrorists, rapists and drug dealers to cross--just so they can trade with the very people that are breaking our laws daily. How much better off would we be without a drain on our economy as a whole? Maybe these towns wouldn't even need their trade routes if their hard earned dollars weren't being squandered on the social services, education and criminal justice systems burden of the illegal aliens.

Recently the U.S. government has been trying to appear tough on illegal immigration, and the best way to flex their muscles is to put up some fence. However, the fence the government is planning to install is not the best that money can buy. Eagle Pass Mayor Chad Foster said, "The perception in some parts of the United States is that you build a fence and then migration stops. The reality is that it will slow down migrants by three to four minutes." This is just not good enough. The government is not invested in the creation of a solid, trustworthy defense. They are only interested in political agendas. The Minutemen, however, have fence designs capable of doing the job that a border security system requires. A high tech, double layer or vehicle barriered, climb-repellant fence that is more than a speed bump is a near-impenetrable fortification that is worthy of guarding you and your families, and this sovereign nation.

Minutemen Work to Finish the Border Fence

The Minutemen have been working since 2006 on the construction of a reliable, practical and affordable demonstration border fence built with donations from people just like you. These generous patriots have paved the way to a secure and safe America. You can make a difference you can show the U.S. government that fences do work! You can help get the job done right by donating to the Minutemen Border Fence.

You can tell these local Mayors that they aren't the only people in this country, and they don't set foreign policy or define our international relations with Mexico. They don't write immigration law. We all as a nation feel the harmful effects of illegal immigration, and as a nation must respond. It is time to put a stop to it. We need a FENCE--It is time to BUILD IT!

Send your support now to build the Minuteman Border Fence and show our government what it means to TRULY secure the border against events such as Pearl Harbor and 9/11. Join your fellow American citizens who say "Never Again!" We the people must be vigilant and prepared, and our national territory must be defended!

America needs a FENCE! We have a monumental challenge ahead to raise $55 million and BUILD IT NOW. Nothing the federal government has undertaken or proposed will do the job properly, even if they actually followed through on their false promises. We urgently need your help for this citizen effort to succeed. With your contribution TODAY, MCDC can make America more secure by continuing to empower citizen volunteers in their active support of the Minuteman Border Fence. We CAN show the federal government what border security IS, and how IT CAN BE DONE!

Be sure to TELL EVERYONE you know who wants to help STOP illegal aliens at the border! Thank you!
---
---
Minuteman Border Fence News and Updates
Minutemen Use Defense Fence Technology
Build the Minuteman Border Fence
Memorial Day 2007 completes one year the Minutemen have been working to set a border security standard and build a fence to demonstrate how to defend our country from foreign illegal invasion. On the Richard Hodges ranch in Bisbee, Arizona work is about to continue on the next mile of border security fence. An additional ten miles of ranchland border fencing with multi-strand barbed wire barriers has also been completed by the Minutemen west of Bisbee in February 2007.
[Read More]
---
Border Security is Not the Priority in "AMNESTY" Bill
Senators Play Russian Roulette With National Security
The Minuteman Civil Defense Corps (MCDC) expresses deep skepticism over the amnesty legislation that was introduced yesterday in the United State Senate that effectively creates the roadmap to the dangerously deep and wide illegal alien amnesty program that President George W. Bush has been aggressively espousing since his State of the Union Address in January.
[Read More]
---
Minuteman Border Fence Under Attack
MCDC continues to lead the charge and activate millions of Americans to demand real border security. Steel is in the ground in Bisbee, AZ. Citizen activists build fence and continue to demand border security first.
[Read More]
---
One Mile - One Month: Building Border Security
Eleven miles of the Minuteman Border Fence in eleven months - that is how much of the United States the Minutemen have secured. That is eleven more miles of liberty! But the work is far from finished. The progress that has been made by committed volunteers and our professional team towards promoting a safe and secure United States has been impressive since the Minutemen Ground Breaking Ceremony last year.
[Read More]
---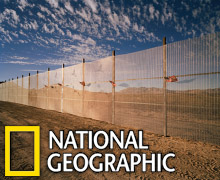 National Geographic Features Minuteman Border Fence in May '07 Issue
Fences may make good neighbors, but the barriers dividing the U.S. and Mexico are proving much more complicated. Borders everywhere attract violence, violence prompts fences, and eventually fences can mutate into walls. Then everyone pays attention because a wall turns a legal distinction into a visual slap in the face.
[Read More]
---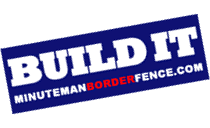 Build it Now! Help Build the American Minuteman Border Fence
America's borders are under siege by an invasion Millions of illegal intruders crowding our streets demanding Amnesty. Have you had enough abandonment of the rule of law? We have -- and we have been doing something about it! Now, whether you can join us at the border or not, you can help build the fence and show your patriotic spirit by sending your donation for a Build It bumper sticker and as you drive you can let America know about the true solution to Secure our Borders.
[Read More]
---
Small World
On the Hodges ranch in Cochise County, Ariz., the Minuteman Civil Defense Corps has asked David Lynch & Associates to supervise construction of a one-mile-long, multilayered barrier separating the United States and Mexico.
[Read More]
---
Minutemen finish border fence on a Palominas ranch
Eight months after breaking ground on a 10-mile stretch of border fencing at the Palominas ranch of John and Jack Ladd, the Minuteman Civil Defense Corps says it has completed the project. Officials with the civilian border watch group report that a team of volunteers finished the final 7 1/2-mile length of five-strand barbed wire fencing on Sunday after working 20 consecutive days on the effort.
[Read More]
---
Bush, GOP senators trim border fence goal
Six months after approving a bill promising to build some 850 miles of fence along the U.S.-Mexico border, the Bush administration and Senate Republicans are now saying 370 miles is enough. In his negotiations with Republican senators, Mr. Bush also appears to have rejected the key compromise in the Senate bill passed last year: allowing only longtime illegal aliens with "roots" to have a path to citizenship.
[Read More]
---
Minutemen build their own fence against migrants
The iron and steel fence is the latest project from the Minutemen, the volunteer group of anti-immigration activists that has placed itself at the sharp end of the immigration debate since launching a highly publicised series of border watches in 2005. Now, frustrated at what the group sees as the inaction of government, it has taken matters a step further, building its own border fence at a cost of around $1-million at one of the busiest points on the line, 144km from Tucson.
[Read More]
---
Border fence project management said lax
Construction of a $30 billion U.S.-Mexico border fence came under fire Thursday as congressional investigators questioned whether more government oversight is needed. In what lawmakers called a classic case of foxes guarding the henhouse, 60 percent of those overseeing contractors' work on the fence are themselves private contractors. And at least one of the firms hired to keep an eye on the project has a potential conflict of interest with Boeing Co., the prime contractor, congressional investigators say. Federal auditors, meanwhile, warn the project is in danger of becoming badly mismanaged, but U.S. officials said they have few other options.
[Read More]
---
Pakistan Asks EU for Help in Raising Fence Along Afghan Border
Pakistan intends to fence off sections of its troubled border with Afghanistan but has shelved plans to lay mines along the frontier, the country's Foreign Minister Khursheed Kasuri said on Thursday in Berlin. "We have a vital interest in the stabilization of Afghanistan," Kasuri said after a meeting with German Foreign Minister Frank-Walter Steinmeier in Berlin. Kasuri said a fence would stop militants crossing the mountainous 2,500-kilometer (1,500-mile) border, but Pakistan would like assistance from the European Union to realize the project. Both ministers agreed about the importance of securing the Afghan border. "We must improve the safety of Pakistan's border with Afghanistan and curb illegal border-crossings," Steinmeier said.
[Read More]
---
Bush '08 budget falls short on money for border fence
President Bush's new budget would pay for only about half of the 700 miles of U.S.-Mexico border fence he and Congress four months ago promised to build. With Mr. Bush trying to prove to Republicans he is serious about immigration law enforcement, his budget makes good on his promise to fund 3,000 new U.S. Border Patrol agents, putting him near his goal of doubling the agency's size. He also included funding for 22 new Immigration and Customs Enforcement (ICE) teams to identify and deport illegal aliens serving time for criminal convictions.
[Read More]
---
Minutemen finish border fence on a Palominas ranch
Eight months after breaking ground on a 10-mile stretch of border fencing at the Palominas ranch of John and Jack Ladd, the Minuteman Civil Defense Corps says it has completed the project. Officials with the civilian border watch group report that a team of volunteers finished the final 7 1/2-mile length of five-strand barbed wire fencing on Sunday after working 20 consecutive days on the effort. Volunteers and a hired contractor completed the first 2 1/2 miles of fencing in July after beginning work in late May.
[Read More]
---
Democrat Congress Committed to Killing US Border Fence! Minuteman Border Fence is the ONLY real barrier being built!
The Democrat led Congress applauded President George W. Bush's State of the Union Address last evening that offers no new plan for resolving the existing border security crisis plaguing our nation. MCDC believes that inadequate funding for a fence on the U.S.-Mexico border and inadequate enforcement of current immigration laws have exacerbated the problem, yet instead of calling on Congress to increase enforcement, the President demanded passage of amnesty legislation under the guise of "comprehensive immigration reform."
[Read More]
---
The Right Time by Joe Murray: Fate Of Fence In Hands Of New Democratic Leaders
With a little under a month since the Democratic Party took its place at the helm of Congress, the new Democratic leadership has taken great strides to upset the political apple cart left by the Republicans. During their first week in charge, Democrats ruffled Republican feathers by passing a bill that would rescind the federal ban on stem cell research, and now Democrats are hinting that the border security bill passed in 2006 may not be funded. Last week, House Majority Leader Steny Hoyer (D-Md.) raised eyebrows when he told reporters "the fence will be revisited." The fence that Hoyer was referring to was the 854 miles of fencing Congress approved to be constructed along the Mexican border when it passed the Secure Fence Act (SFA) last fall.
[Read More]
---
ALERT: Remember the incursion into U.S. territory last week by Mexican gunmen that we emailed you about?
It appears that it was NOT a "chance confrontation" between the Arizona National Guard and untrained illegal immigrants, but a deliberate "perimeter probe" by an infantry-trained, uniformed Mexican force, according to a just-released online report.
[Read More]
---
On The Border - Connie's Perspective: A Border Fence Update January 2007
We have built over two miles of fence and have a good crew going this week. Also we are providing security for both fence lines. We have one wash that will require a double fence, one on top of the other in order to cross on land on each side. The weather has been harsh, we arose to 11.4 degrees yesterday morning. By the time we were in the field it was around 20 degrees. We completed 3/8ths of a mile even with the cold temps.
[Read More]
---
Fencing Volunteers Needed for the Following Starting January 8, 2007
Install 7.5 miles barbed wire (6-12 Volunteers Needed Daily). Fence Security Shifts (18 Volunteers Needed Daily). Flag Duty & General Labor (2 Volunteers Needed). Contact Connie Foust for scheduling. Call 520.559.0230 or send email to borderfencevolunteer@minutemanhq.com
[Read More]
---
Minuteman fence rising on border ranch
The Minuteman Civil Defense Corps is backing its big talk with a big fence. The volunteer border watch organization has financed and coordinated the construction of a 0.9-mile-long, 13-foot-high steel mesh fence east of Naco. So far, about a quarter mile is finished, with poles and holes marking the progress on the rest of the section. Although the barrier covers only a tiny section of the 362 miles of international border in Arizona and even less of the nearly 2,000 miles of U.S.-Mexico border, the Minuteman organization insists the impact on illegal immigration will be more than just symbolic..."What it has done is brought so much attention, an awful lot of attention." The effect will be twofold, said Al Garza, Minuteman Civil Defense Corps national executive director. First, it will force traffic to the east and west and give the Border Patrol an area it won't have to patrol. Secondly, it will "let the government know that it's not as difficult to secure the borders as they lead us to believe," Garza said. The barrier is expected to cost about $650,000, said Peter Kunz, project manager for the Minuteman Fence Project.
[Read More]
---
Bipartisan Effort to Draft Immigration Bill
Counting on the support of the new Democratic majority in Congress, Democratic lawmakers and their Republican allies are working on measures that could place millions of illegal immigrants on a more direct path to citizenship than would a bill that the Senate passed in the spring. The lawmakers are considering abandoning a requirement in the Senate bill that would compel several million illegal immigrants to leave the United States before becoming eligible to apply for citizenship. The lawmakers are also considering denying financing for 700 miles of fencing along the border with Mexico, a law championed by Republicans that passed with significant Democratic support.
[Read More]
---
Illegal aliens murder 12 Americans daily; Death toll in 2006 far overshadows
total U.S. soldiers killed in Iraq, Afghanistan
While the military "quagmire" in Iraq was said to tip the scales of power in the U.S. midterm elections, most Americans have no idea more of their fellow citizens - men, women and children - were murdered this year by illegal aliens than the combined death toll of U.S. troops in Iraq and Afghanistan since those military campaigns began. Though no federal statistics are kept on murders or any other crimes committed by illegal aliens, a number of groups have produced estimates based on data collected from prisons, news reports and independent research. Twelve Americans are murdered every day by illegal aliens, according to statistics released by Rep. Steve King, R-Iowa. If those numbers are correct, it translates to 4,380 Americans murdered annually by illegal aliens. That's 21,900 since Sept. 11, 2001.
[Read More]
---
Whitehouse - Congress - Mexico :: Support Amnesty and Open Borders! :: Minuteman Civil Defense Corps Says NO!
Minuteman Civil Defense Corps is EXPANDING our border efforts, because now more than ever it is up to a self-governing people to secure the borders. We will never give up! RIGHT NOW it is more important than ever to secure our borders with patrols and fencing on private land using private donations. The open border lobby are dancing in the streets as, unfortunately, amnesty is supported wholeheartedly by the new majority party in Congress.
[Read More]
---
Bush Signs Toothless Fence Bill -- No Money $$ for Border Fencing Offered
The Minuteman Border Security Plan is ESSENTIAL...Real Border Fence... Real Border Security! Thank you for all your support and making the Minuteman Border Fence operation a reality. The first New Minuteman Border Fence Video Email is now available showing the progress being made to Secure the Border. If we fail to redouble our Minuteman efforts, the headlines below can only get worse. The measure Bush is putting into law Thursday before heading for campaign stops in Iowa and Michigan offers no money for the fence project covering one-third of the 2,100-mile border.
[Read More]
---
Minuteman Civil Defense Corps Project Brings High-Tech Security to Arizona Border
If you build it, they won't come. That's the hope of the Minuteman Civil Defense Corps, who are behind a nearly one-mile long fence now under construction on an Arizona ranch along the U.S.-Mexico border. As politicians wrangle over whether to build barriers along the nation's borders and how to pay for them, the MCDC started building the first of what they plan to be many state-of-the-art border protection systems using donated technology never before seen in the United States and originally developed for use along the Korean peninsula's Demilitarized Zone. "Each journey begins with a first step, and this is the first mile," said Connie Hair, spokeswoman for the group.
[Read More]
---
Mexico Gathers Support From 27 Nations for Declaration Opposing U.S. Border Fence Plan
Mexico, supported by 27 other nations, made a declaration at the Organization of American States slamming U.S. plans to build hundreds of miles (kilometers) of fence on its southern border. The declaration, read aloud Wednesday at the OAS headquarters in Washington, said the barriers would not solve the immigration problem and urged the U.S. government to rethink its position, according to press releases from the OAS and Mexican foreign ministry. The 28 nations express "deep concern regarding the decision adopted by the United States of America to build and extend a wall on its border with Mexico, considering it to be a unilateral measure that goes against the spirit of understanding," it said in the declaration, which was read out by Mexico's Ambassador Alejandro Garcia Moreno.
[Read More]
---
Secure Fence Act of 2006 Still not Signed! Members of Hezbollah have already entered America across the Southwest border.
ONLY the Minutemen are building U.S. Border Fence! On Memorial Day weekend 2006, U.S. citizens of the Minuteman Civil Defense Corps exercised their God-given rights to protect their lives and property by initiating construction of the Minuteman Border Fence along the U.S. border on private land, to demonstrate that a border fence can be built and does work. Congress seemed to get the message, and with your support and pressure passed the Secure Fences Act of 2006. NOW the U.S. Senate is about to scrap the 700-mile fence on the U.S.-Mexican border and thumb its nose at the majority of Americans who are demanding border security?
[Read More]
---
Back door to terror
Since Sept. 11, 2001, Americans living along the U.S.-Mexican border have been warning that our porous frontier is a back door for terrorist entry into this country. Local, state and federal law enforcement officers, overwhelmed by the flow of human traffic across the border, have acknowledged the threat -- and been widely ignored by the mainstream media and "official" Washington. Last year, in little-noticed congressional testimony, FBI Director Robert Mueller revealed that "individuals from countries with known al Qaeda connections have attempted to enter the United States illegally using alien smuggling rings and assuming Hispanic appearances."
[Read More]
---
In memory of my dad's defense of our country - George C Scruggs
Just a thought, as I read your plan to place flags along the border. I and countless others have flags that were given to a family member at the burial of a veteran. Mine stays folded and put away for "safe keeping" as a memento to my dad. BUT, I rarely see it unless I am digging through the "safe keeping" location. My dad's name is James Clarence Scruggs and he served 2 years during WWII mainly in Italy. I will gladly send that flag to you for display where you need it, even along the border, in memory of my dad's defense of our country, in other nations of the world, through his military service during WWII. These flags could be displayed as a strong and visible show of support by the people of this nation.
[Read More]
---
Congress NOT Building Border Fence!!! Misleading Americans About Funding, Plans!
Lawmakers Pass Separate Bill to Kill Border Fence Construction Funding Sent Elsewhere! They do not think you will notice or care about their trickery!!! Shortly before recessing late last Friday, the House and Senate gave the Bush administration broad leeway to distribute the money to a whole host of other projects - not just the physical barrier along the southern border. A recent Washington Post stated that "No sooner did Congress authorize construction of a 700-mile fence on the U.S.-Mexico border last week than lawmakers rushed to approve separate legislation that ensures it will never be built, at least not as advertised, according to Republican lawmakers and immigration experts."
[Read More]
---
Minutemen are Building Fence NOW!!!
President of Mexico, Vincente Fox, has publicly railed against any fencing, calling it "shameful" and falsely comparing it to the Berlin Wall that divided free and Communist Germany. A spokesman for President Vicente Fox predicted on Wednesday that the United States will probably never build any of the proposed 700 miles of new fencing along the border of the two nations.
[Read More]
---
Senate Votes "For" a Fence to Cover Only 3% of Our Border.
Where is the leadership needed to truly secure our borders from terrorism and illegal alien invasion? Politicians have just voted to put up a smoke screen instead of a real fence. They provide misleading information about border security to make you believe the border is secure.
[Read More]
---
5 firms competing to build border shield
The Bush administration is expected next month to choose an industry consortium to erect a high-tech security shield along the U.S. borders, launching one of the federal government's most ambitious public-works projects in years.
[Read More]
---
Border fence appeal period expires
A Minuteman-built border fence planned for a local ranch cleared its final legal hurdle this week when a 30-day waiting period expired Thursday without any appeals filed to stop it.
[Read More]
---
Offer sounded too good
When the Minuteman Civil Defense Corps approached Richard Hodges earlier this year and offered to construct a barrier along his 0.9-mile stretch of borderfront property, the proposal seemed almost too good to be true.
[Read More]
---
Feds to build border fence from Huachucas to Douglas
The federal government is preparing to build a border barrier that will extend from the Huachuca Mountains in the west to Douglas in the east, a Border Patrol spokesman confirmed Monday.
[Read More]
---
Planning is Completed - Ready to Start Second Site
Chris Simcox has kept his promise and volunteers have begun building the Minuteman Border Fence. Chris has asked me (Peter Kunz) to give you a quick update on the activities and planning for the current fence project and our next site that starts in July.
[Read More]
---
Minuteman Group Hires Fence-Building Contractor
Construction on the fence began May 27, when about 150 supporters turned out for the groundbreaking, but the number of volunteers then dwindled. "We don't want to put up something that will just be a symbol," said Al Garza, the group's executive director. "We want to make sure it's permanent, properly structured and done right."
[Read More]
---
Minuteman Border Fence Vandalized
There are holes in a border fence put up by the Minuteman Project. Volunteers with the border watch group built it last month near Palominas. But someone tore it up.
[Read More]
---
Minuteman Volunteers Build Fence
As immigrants and their supporters prepared for a massive boycott on Monday, opponents of illegal immigration went to work building a border fence meant to symbolize their support of a secure border. About 200 volunteers organized by the Minuteman Civil Defense Corps of California began building a 6-foot barbed wire fence Saturday along a quarter-mile stretch of rugged terrain in Boulevard, about 50 miles east of San Diego.
[Read More]
---
The groundbreaking began in Arizona this Memorial Day weekend!!!
Volunteers from across the country came together for our inaugural border fence ground breaking. With the successful completion of the border fence ground breaking behind us, we must now look forward to accomplish our goal of a secure border.
[Read More]
---
To President Bush: 'We don't trust you'
Transcript of Alan Keyes' remarks at Minuteman fence groundbreaking: Thank you very much. God bless you. God bless you all. We always say that. But there are times, I think, when we ought to stand back and realize that the truth of the matter is that sometimes when we say, "God bless you," what we're really saying is you are a blessing from God.
[Read More]
---
Minuteman fence: Israeli-style barrier planned for Palominas
A plan by the Minuteman Project to build an Israeli-style border fence on the property of a local rancher over Memorial Day weekend is raising concern with county officials -- as well as with the rancher himself. The leader of the civilian border watch group, Chris Simcox, announced the barrier-building effort in April as a response to the government's failure to secure the nation's porous southern border.
[Read More]
---
Minuteman leader pushes border fence
If the government doesn't build security fencing along the Mexico border, Minuteman border watch leader Chris Simcox says he and his supporters will. Simcox, whose civilian watch group opposes illegal immigration, said Wednesday he was sending an ultimatum to President Bush to deploy military reserves to the Arizona border by May 25 or his supporters will break ground for their own building project.
[Read More]
---